hey, here i am blogging again. high school musical tonight and i'm excited. jumping up and down in my chair kind of excited. if it's a love thinggy, i bet i'll go to bed tonight feeling terribly miserable at the thought that.. well, single blessedness gets to you or i'm just a really big loser. i know that 🙂 sigh.
anyways, this week was ok, i guess. school was ok. bearable. well, my grades have been ok. perfects and a good 3 or 4 mistakes. i think or i'm just sounding really – unhumble right now. lmao
well, t. jojo made me cry in class. and once again, i'm the first person to cry in class. i do not blame myself. lmao. it's him. he stole my notebook. i hate him for that. but i like him as an adviser. you know. whatever. i will eventually change my mind. lmao. sorry, kev. you have issues with him. i know. lmao.
last friday, mommy left for bangkok, she went with annie and debbie to – shop? yeah, well, it was basically cuza that. they proli needed a long vacation. whatever with them. i'm mad i'm not with them. but do they care? nooooo. and along with mommy being at bangkok, i've been under house arrest 🙁 well, at least the fun came to me. yes, it did. nina, my love came over yesterday and we bonded. i missed her soo much. it was all fun. i love her:) yes, i do
and then today, we just went to ayala with the father and the monkey. just that. well, whatever. nothing to say really. life has been ok from someone else's point of view but i think i'm just being ungrateful as always. but i don't blame myself for some reason. hmm. i don't like this feeling. lmao. i'm thinking of a quote right now. but, i don't feel like thinking much so, forget that. lmao.
issa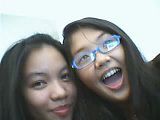 ok, i had to ask her where she was looking after taking this pic. what? we have two choices. the screen or the cam. guess where the smart ass was staring.


big babies


ok, we basically agreed to stare at the webcam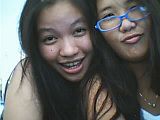 hmp. i'm the dork, she's the cheerleader :]


again.


no, not really. we're both the fabulous chickletz 1 & 2. where's chab? namimiga. lmao. joke, chab. love you!